The Dawgs host the 4th ranked LSU Tigers this Saturday at 3:30 in Athens, in a nationally televised game with national ranking implications. First, though, we'll take a look back at Georgia's 20-17 over Arizona State last Saturday.
By and large, the Bulldogs had the Sun Devils out manned and outgunned, and through a soggy first half, the score generally reflected as much. Georgia was hardly perfect, but given the conditions, a 14-3 lead at the half seemed comfortable. And, guess what? The Dawgs did not turn the ball over in the first half. AJ Green was unstoppable, and the defense was certainly competent.
Then, Georgia's old friends, turnovers and penalties, reared their ugly mugs.
A fumble by Caleb King (who appeared to really be asserting himself) and a pick six thrown by Joe Cox led directly to 14 points for ASU, and the Bulldogs found themselves down by 3 heading into the fourth quarter.
The Dawgs quickly answered to tie the score early in the 4th quarter, but a 2nd interception by Cox seemed like it would doom Georgia. As it had the previous two games, though, the Dawg "D" made a late stand, culminating in a clutch blocked field goal by AJ Green, who was inserted on the play on a hunch by coach John Jancek.
Georgia converted a huge 3rd down to freshman Rantavious Wooten, and on the next play, Cox found AJ Green for an acrobatic 36 yard grab down the sideline to set up a game-winning field goal. Blair Walsh nailed it as time expired to remain perfect on the season, and the Dawgs moved to 3-1 on the not-so-young season.
Offensive Player of the Game:
I said Caleb King to try to be somewhat original. He looked good outside of the fumble, but AJ Green saved the day in more ways than one, with a blocked FG, and 8 catches for 153 yds and a TD.

Defensive Player of the Game:
I thought Cornelius Washington would continue his good work, but we saw Justin Houston get off the schneid in his 2nd game back from suspension. The Statesboro native was everywhere, recording a sack, 2 tackles for loss, a pass break-up, and just generally being a disruptive force for most of the night.
Thought for the Game:
Despite being 3-1, Georgia has only outscored its opponents by 4 points. I'll take it, but I'm not sure my heart can.
So, on to this week's match-up between #4 LSU, and #14 Georgia.
Dating back to 2002 and including this year, these two programs have won the most games in the SEC, with Georgia holding a slight edge, 77-76. Credit current Bama coach Nick Saban for righting the LSU ship and returning the program to national prominence. Coach Les Miles has certainly continued the school's success, although his arrogance, eccentricities, and lackluster 2008 season have left some wondering just how good he really is. Last week, the Tigers had to stop Mississippi State four times at the goal line to pull out a victory against the improved, but still mediocre MSU team. That, despite getting four turnovers and a punt return for a touchdown.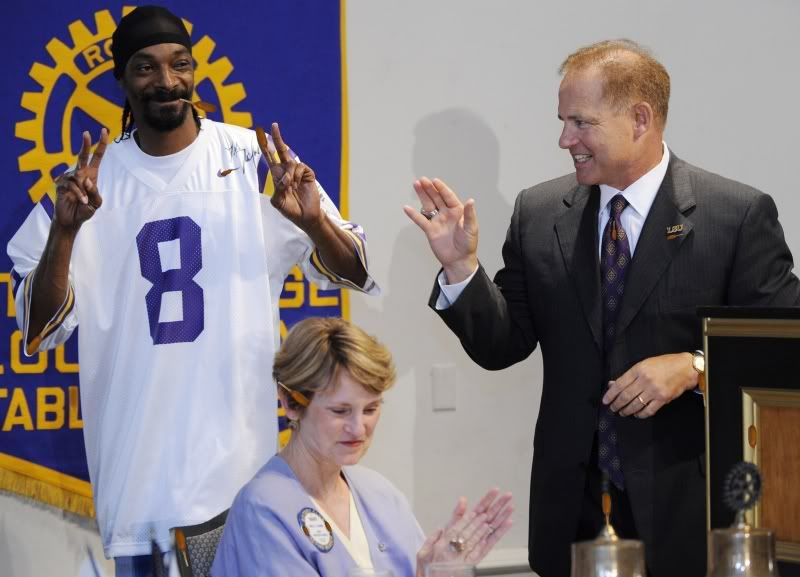 How Many Corn Dogs Can You Spot?
Offensively, the Bayou Bengals have settled on Jordan Jefferson as the starting QB after a bit of a merry-go-round last season. The sophomore has been inconsistent at times, but he's done a fine job of distributing the ball to his play-makers, and more importantly, not turning the ball over, throwing just one pick in 101 attempts on the season. Jefferson is mobile enough, and while he'll have perhaps a couple of designed runs, he's more adept at scrambling for yardage if nothing's open down field. LSU has also been using freshman QB Russell Sheppard out of the ubiquitous "Wildcat" formation. He's yet to throw a pass, but has rushed for 74 yds on 11 carries, and both he and the staff are growing more confident in his abilities with every passing game.
The Tiger running game has been somewhat enigmatic so far this year. LSU always features a plethora of talented backs, but they've yet to get untracked thus far. No untracked backs in the rushing attack. Charles Scott was a beast last season, and while he still leads the team in attempts, he's also being used as a fullback when RB Keiland Williams' number is called. Also, keep an eye out for Trindon Holliday. The diminutive speedster (5'5, 164) is used at pretty much every skill position on offense, and is easily one of the fastest players in the country.
At wideout, LSU boasts great size and athleticism. WR Brandon LaFell is perhaps the SEC's best possession receiver (though he can certainly burn you deep), and led the SEC in receptions a year ago. Terrance Toliver (6'4, 200lbs) has emerged as a big-play threat. TE Ricard Dickson (yes, Dick Dickson) is steady, if not flashy. While I wouldn't expect too much out of him in this game due to his inexperience, freshman WR Rueben Randle will be a star before his career is done.
The Tiger O-Line, as always, is big and experienced. Tackle Ciron Black has seemingly started for 17 years, as has right tackle Joseph Barksdale. As big and athletic as the line is, it's curious that they've not had quite the success running the ball as they probably envisioned. Perhaps the reason is on first-year starting center T-Bob Hebert. He's the son of former Atlanta Falcon QB Bobby Hebert, and clearly has one of the greatest names in the SEC.
For Georgia defensively, the Dawgs have been relatively stout against the run. More importantly, though, it's the one area on defense where they've at least been consistent. LSU is more than likely going to try to establish the run early, and while they've only had limited success, they are still dangerous. Mississippi State crowded the box last week, and held the Tigers to 30 yds net rushing. LSU QB Jordan Jefferson is still relatively inexperienced, and his most erratic games this season have come on the road. Early on, it's okay for the Bulldogs to give up some underneath stuff, but they need to avoid any big plays. We've been seeing hints of Georgia's D-Line coming around, both inside and off the edge. They'll need to get after Jefferson early in the hopes of rattling the young QB.
The Tiger defense, typically one of the finest in the land, has not been overly impressive the past two years. This year, they brought in former Tennessee Defensive Coordinator John Chavis. They do rank 23rd in the country in scoring D, and 49th in total defense, but given the completely inept offenses they've faced to this point, that's not particularly impressive.
Up front, Al Woods is a monster at defensive tackle, and DE Rahim Alem (formerly Al Jones; Rahim Alem means "Merciful Leader," just so you know) is a force off the edge. It's surprising, given the talent up front, that LSU, like Georgia, has struggled lately to apply consistent pressure in the backfield. The Tigers are actually tied with the Dawgs for 89th in the country in sacks.
The LSU linebacking corps can certainly run, but it's their size that makes them so formidable. At an average size of 6'3, 240lbs, they're big even for NFL standards. Senior Perry Riley leads the group, along with Kelvin Sheppard. They both hail from Stephenson High School in Atlanta, in the "ones-that-got-away" category.
Although only average against the pass statistically speaking, the LSU secondary is up there with Florida as the most talented Georgia will face this year. Sophomore CB Patrick Peterson has really asserted himself this year, and is as big a pure corner as you'll see in the league, at 6'1, 211 lbs. Safety Chad Jones (brother of Rahim Alem) is not the fastest safety in the country, but he has a nose for the ball, and is really built like a linebacker. Their main problem (when they've had problems) has been caused by lack of pressure up front.
For the Dawgs on offense, well, you know the drill. Stop turning the dang ball over. Georgia is averaging a perfectly respectable 30.75 ppg against solid competition, despite giving the ball up 3 times in every game this year. Not to play the woulda, coulda, shoulda game, but last week, MSU lost the turnover battle 4-0, and still was within a foot of beating the Tigers. Just imagine what might have been had they held on to the ball. Offensive Coordinator Mike Bobo was somewhat conservative in his play calling last week, but given the first half conditions and the fact that ASU's offense couldn't do much before Georgia starting turning the ball over, you can understand it. This week, don't expect him to hold anything back. LSU will certainly try to bottle up AJ Green, so other receivers will need to be ready to play. I have a feeling RB Caleb King will be the go-to back early, and if he can get off, the Dawgs will be in good shape with some play action passing. Also, TE Orson Charles was basically an afterthought last week. He's a mismatch for pretty much any linebacker out there, and I expect him to be an integral part of the offense this week along with TE Aron White, as Bobo looks for ways to take advantage of the double-coverage Green is likely to see.
Overall, Georgia has dominated the Tigers of late, going 3-0 over the last three, all games that weren't really even close. As a matter of fact, Georgia is the only SEC team that LSU has not beaten under Les Miles (if you subscribe to the law of averages, that does not bode well for the Dawgs). Even if Georgia is simply turnover-prone, you've got to believe that they'll have a clean game sooner or later. I refuse to predict that they will until I see it, so this one should remain close. I think the Dawgs take it on a late field goal, 31-30.
Offensive Player of the Game:
I'll go with Tavarres King. He, Mike Moore, and Orson Charles need to step up. I think King, with his exceptional speed, makes a couple of big plays.

Defensive Player of the Game:
DT Jeff Owens has been a bit slow to return to form after recovering from a torn ACL. He's been solid, but I think this is the game where he looks more like the Owens of old.
Thought for the Game:
Hey, look at that! Georgia's got a day game! As good as LSU usually is, they are one of the few teams that tends to play more games under the lights. They often don't play their best ball during the day, so we'll see if that holds true this Saturday.
Well, that's what I've got for you this week. It's getting to be that time of year when polls and style points begin to count less and less. Winning this one, no matter what it looks like, would be huge for either team. The forecast calls for an absolutely picture-perfect day for football. See ya Between the Hedges. Go Dawgs!!